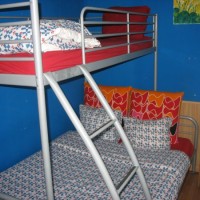 Need a hotel in Barcelona?
Try 'Backpackers House BCN' it is really ok if you are just staying for a few nights.
It is cheap and nothing special but you can always meet some new friends there.
They have free breakfast & internet, free bedsheets and free luggage storage. The staff there is very nice and friendly. At least they were when we have been there.
It is made for backpackers so don't expect some bling bling luxury. You can't find it here. Rooms are not beautiful or big but only needed for sleeping and breakfast so no problem for us. Free wifi is easy and fast.
You can bring your food and store it in their fridge if you want.
Here is the link: http://www.backpackershousebcn.com/