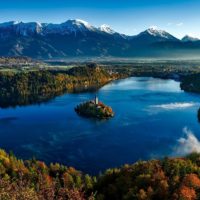 Consider Slovenia for a Perfect European Vacation
Slovenia is a gorgeous paradise on earth covered with snow-capped peaks, serene turquoise-green rivers and breathtaking lakes. It also has a Venetian-style coastline that adds to its natural treasures with resonating architecture, rustic chic culture and sophisticated modern blended cuisine.
Slovenia has it all including soaring peaks of the Julian Alps and the subterranean magic of Postojna and Škocjan caves that you just can't miss out on. The weather here is perfect for vacationing. It's a perfect blend warm Mediterranean breeze towards foothills of the Alps, where it sometimes snows in summer. The half of this majestic beauty is covered in thick forest making it among the greenest countries in the world.
With all this closeness to nature the place still has a touch of luxury to offer. It is especially best for those who like to observe and absorb the nature while staying close. Book your hotel room with Reservations.com and save on your stay. They offer personalized travel planning and help you to find hotels to fit any budget.
This place has it all even the usual activities like golfing, gambling, wine tasting etc all the while being surrounded by astounding view of this beautiful place.
But if you are into local pursuits that this great destination has to offer. Slovenia has lots of great things to offer. The Locals prefer active holidays; they extend invitations and include you in their event and celebrations. You could also pursue skiing, walking and hiking in the mountains, or even cycling. Rafting in one of the fast rivers like the Soča is a great activity including horse riding, ballooning, caving and canyoning.
Still everything has to have a reason, so if you are going to choose Slovenia for your next vacation, here are some useful ones:
Low crime rate makes this country perfect to travel to
Incredible Eastern European influences with Mediterranean vibes
Colorful street art and quirky décor and great nightlife
Cheap travel destination and beautiful greens
Readily available farm fresh food and unpasteurized milk
Local culture has a splash of 80's
Not over run by tourists
Sunbathes on pensive the Adriatic
Rowing boat rides in breathtaking lakes
Well maintained medieval castles to bring you back to their era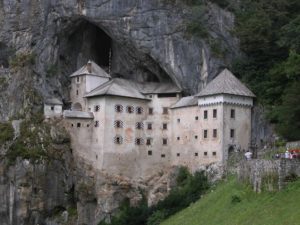 Slovenes treasures of architecture & culture has offer Lake Bled. It is a tiny baroque chapel on a small picturesque island and has a very dramatic castle looming over it making it a harmonious whole. The architecture here is quite varied where ever you see. The Venetian harbor towns of the coast are there to be explored and the rustic Hungarian-style farmhouses of Prekmurje are to die for. The Gothic churches near the Julian Alps and the art nouveau magnificence of Ljubljana the capital of Slovenia. These museums are rich and very culturally vibrant.
The local cuisine borrows some style and tastes from its neighbors, Italy, Austria, Hungary and the Balkans. The food there is a synthesis and reinvention of dishes that are the perfect combo of familiarity and uniqueness. Slovenes have an obsessive fascination of using fresh ingredients and locally sourced materials. This makes them attractive to health or diet conscious people making this a popular foodie destination. You can easily tantalize your taste buds by sampling dishes with unusual combos including a wildly decadent dessert assortment. Slovenian wine is a must try essential especially the regional whites and reds because they pair well with local delicacies.