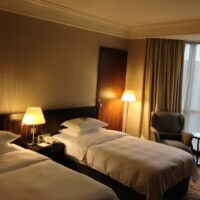 Serviced Apartments vs. Hotel
Serviced Apartments vs. Hotel
Serviced apartments are often a good alternative to hotels and most much cheaper.
There are many serviced apartments which can be rented day by day, weekly or monthly.
Most Apartments in Bangkok all stand apart from your average hotel room with their range of extra facilities and services. Particularly popular with the family, business guests or just anybody looking to stay for an extended period of time, many of these Bangkok serviced apartments come with cooking appliances, living rooms, parking spaces, swimming pool and are still serviced on a daily or weekly basis depending on your preference.
Featured Image: http://pixabay.com/de/hotel-bett-179021/