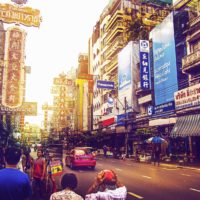 What are your favorite Restaurants in Bangkok ?
Suda, Sukhumvit soi 14. Traditional Thaifood with fair prices located in the heart of Bangkok !!!
Best beef On Nut (near BTS on Nut) BBQ and hot pot (very good australien tenderloin and sirloin steak)
Cabbages and condoms Sukhumvitt soi 12. As one of the most unique restaurants in Metropolitan Bangkok, the Cabbages & Condoms (C&C) Restaurant has attracted international attention.
Image credit: https://pixabay.com/de/bangkok-straße-thailand-reisen-2732437/