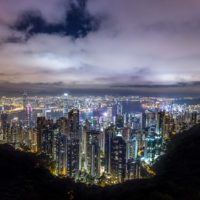 Hong Kong Is World's Number One Top Travel Destination
Hong Kong is the world's most-visited city for international travelers, thanks to a growing influx of visitors from mainland China, according to a new study.
Hong Kong drew 23.8 million visitors in 2012, outpacing Singapore (21.3 million) and Bangkok (15.8 million), market-research firm Euromonitor said in its "Top 100 City Destinations Ranking" report released this week. The firm analyzed various travel data, including government statistics and airport arrivals, to determine its list for 2012, the most-recent year for which figures are available.
Arrivals to Hong Kong from China rose 11.1% in 2012 from the previous year and made up 63.5% of all visitors to the city. Though Hong Kong is controlled by China, it has separate customs and immigration systems, and treats visitors from mainland China similar to those from other countries. To be sure, a large portion of the visits from the mainland to Hong Kong are day-trippers from neighboring Shenzhen looking to stock up on daily necessities, such as milk powder.
Hong Kong's rise to the top of the list is recent. In 2009, the city ranked 10th on Euromonitor's list, with slightly more than seven million visitor arrivals, while London, Bangkok and Singapore held the top three spots. By the following year, Hong Kong vaulted to No. 1 with 20 million arrivals, thanks to a stampede of visitors from China.
Chinese tourists also made their mark on Thailand. In 2012, travelers from China increased by 62% from the previous year, making them the largest source market for tourists in Thailand. Euromonitor cited the success of the hit Chinese film "Lost in Thailand" as one of the reasons for the increased traffic.
The increase in arrivals pushed Bangkok to third place, displacing London to the No. 4 spot at 15.5 million arrivals.
Asian cities dominated the rest of the top 10 list: Macau, Kuala Lumpur and Shenzhen ranked fifth through seventh. New York; Antalya, Turkey; and Paris rounded out the top 10.
Euromonitor said the top five countries of international departures in 2012 were Germany, the U.S., the U.K., China and Russia. But it forecast that by 2017 China will overtake Germany for top place, and Russia will rank third due to rising affluence in those countries.
The research firm showed that countries that streamlined visa processes for Chinese visitors saw immediate benefits, pointing to Paris as an example. In 2012, it received 204,000 visitors from China, a 16.1% increase from 2011.
Top city destinations by arrivals in 2012 and percentage growth from the previous year:
1. Hong Kong — 23,770,200 (6.5%)

2. Singapore — 21,345,700 (7.7%)

3. Bangkok — 15,822,600 (14.6%)

4. London — 15,461,000 (2.3%)

5. Macau — 13,360,800 (3.4%)

6. Kuala Lumpur, Malaysia — 13,339,500 (6.7%)

7. Shenzhen, China — 12,100,400 (9.6%)

8. New York City — 11,618,000 (8.9%)

9. Antalya, Turkey — 10,296, 600 (-1.6%)

10. Paris — 9,780,800 (3.3%)
"Content from Euromonitor International"
Image Credit: https://pixabay.com/de/rheintal-deutschland-schiff-fluss-321290/